Descrizione prodotto
PASTA!
WITH BEN HIRST
Dry pasta | Egg pasta | Water based pasta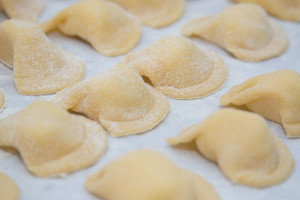 Ben Hirst will be demonstrating and you will be making and cooking three dishes: one dry pasta, one water based pasta made with semolina and a classic egg based pasta. Each with it's won particular sauce.
The two and a half hour course will lead you through:
The basics of making and cooking pasta.
The classic bases for a pasta sauce.
Which sauce goes with which pasta.
How to 'mantecare' the sauce with the pasta so that the sauce combines perfectly with the pasta.
The recipes :
Dry pasta : Paccheri with pancetta arrotolata, courgettes, sun dried tomatoes, and marjoram.
Water based pasta: Strascinate with anchovies, roman broccoli and toasted bread crumbs.
Egg pasta: Maltagliate pasta with artichokes, chickpeas, and ricotta salata.
TARGET AUDIENCE
The course is open to everybody
ADDRESS
Theorical and practical lessons will be held at the Italian Kitchen Academy (Fontana di Trevi – Center of Rome) – Metro A Barberini.
COSTS
50,00 euro
Payment methods:
Payment can be made online by clicking on the BUY button for the course reference by credit card or Paypal. 
It is also possible to make a bank transfer to: CULTURAL ASSOCIATION ITALIAN KITCHEN ACADEMY IBAN: IT34G0542803200000000007918. Please state in "subject" the name of the course for which you are requesting the enrollment and the start date. 
There is the possibility of paying cash or by credit card, but only directly going to the headquarters of the Academy in Vicolo Scavolino 64A – 00187 Rome.